Welcome!
Amanda Quivey Designs is dedicated to providing you with stylish, comfortable, and durable cloth masks.
Amanda is a professional costume designer with more than a decade of experience
in creating, building, and perfecting costumes for the stage.
​
Is your mask in need of repair? Elastic loose or no longer stretchy? Wire all tired out?
Introducing the Repair Shop!
​
For $5/mask I will refresh your elastic, tighten or loosen straps, and replace worn wires.
(shipping added at checkout)
​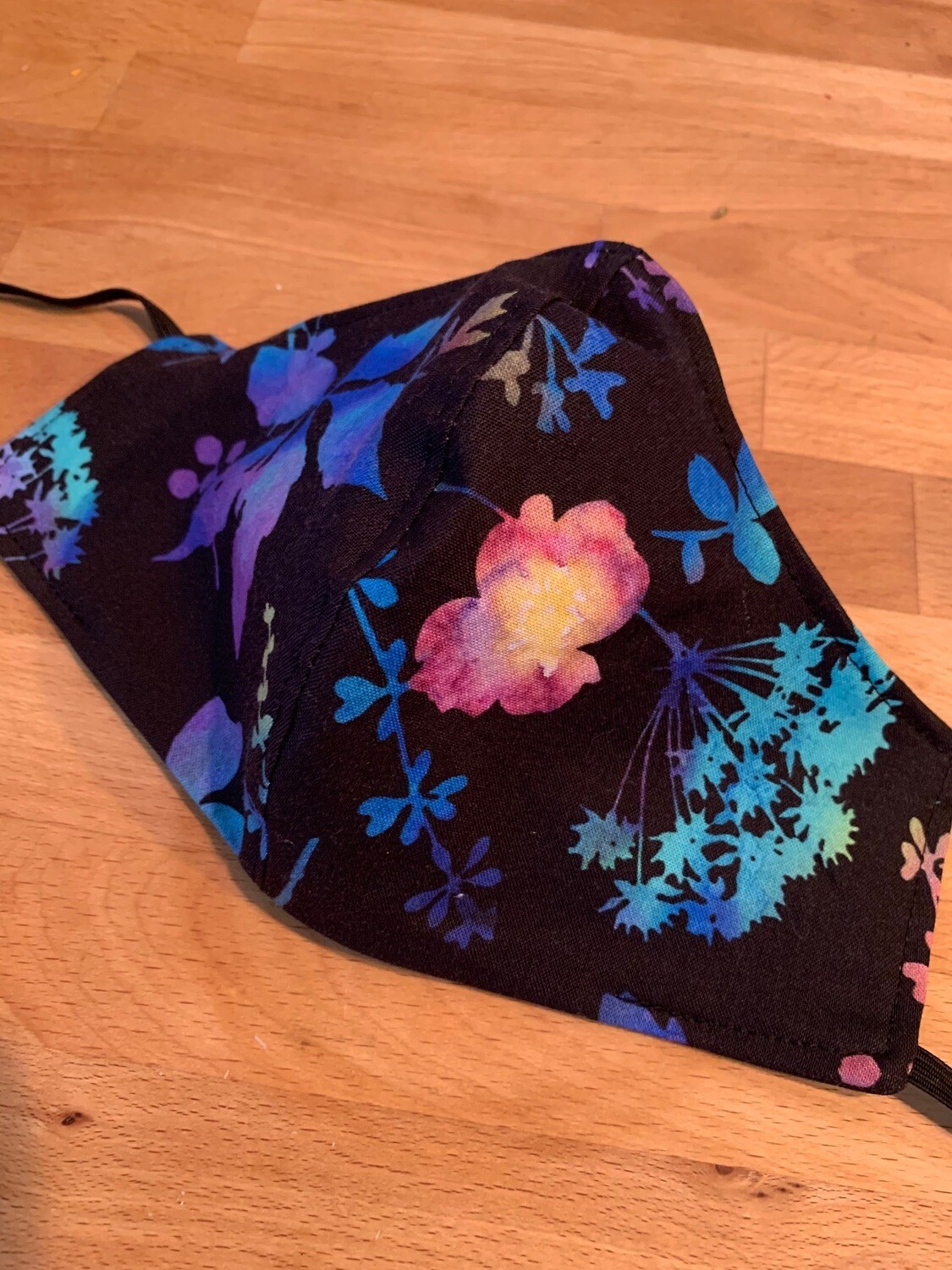 Fitted Cloth Mask
SKU 00096
Product Details
Made with two layers of 100% cotton, precise top stitching, and a gentle curve to create a very comfortable fit. Optional wire across the top adds even more shaping and security.

1/4" flat elastic loops or soft jersey ties so you can choose your optimal fit.
---
Fabric is pre-washed, finished mask is placed into paper envelope for shipping or pick-up. I strongly recommend washing them prior to first use!
To Clean: clean the masks after each use. When washing, preferable in the laundry machine, use soap and warm/hot water (soap is very effective for destroying viruses. Do not use fabric softeners or dryer sheets because these can impart a charge on the fabrics that will attract the viruses.
---
Disclaimer: The effectiveness of preventing COVID-19 by wearing a homemade mask is unknown compared to medically approved surgical masks and N95. According to the CDC, homemade masks are not considered PPE (personal protective equipment) and should therefore not be used as a replacement. Caution should be exercised when considering this option. Homemade masks should ideally be used in combination with a real mask.
Save this product for later
Looking for more information?
Below are resources and tips for effectively wearing a cloth face covering
Find the official CDC recommendations and guidelines regarding cloth face coverings here:
https://www.cdc.gov/coronavirus/2019-ncov/prevent-getting-sick/cloth-face-cover.html
​
Curious how to strike a balance between comfort/breathability and effectiveness? Make sure you read all the way to the end!
https://smartairfilters.com/en/blog/best-materials-make-diy-face-mask-virus/
​
Want to add a little more protection?
Check out our filter media insert pack here!
Or DIY - Insert a folded paper towel (2 layers) or blue automotive towel into your mask using the provided opening. Other materials: dish cloth, flannel blanket (cut into square), coffee filter. Do NOT use anything that wasn't designed to be breathed - vacuum cleaner bags, air conditioner filters - they contain harmful fibers (like glass) that you could inhale.
​
Adjusting mask fit
Ideally your mask should be tight across your face and cheeks, with minimal gapping around the edges

Add a wire to the top fold of the pocket opening to allow a closer fit around your nose - twisty tie, paper clips, hardware wire all work well. You can place the wire and set the fold shut if you would like a more permanent fix

Elastic too big? Try making a knot to make the loops a little smaller

Elastic irritating your skin? Make an easy adjustment with a piece of ribbon or cloth and two buttons or use a paper clip